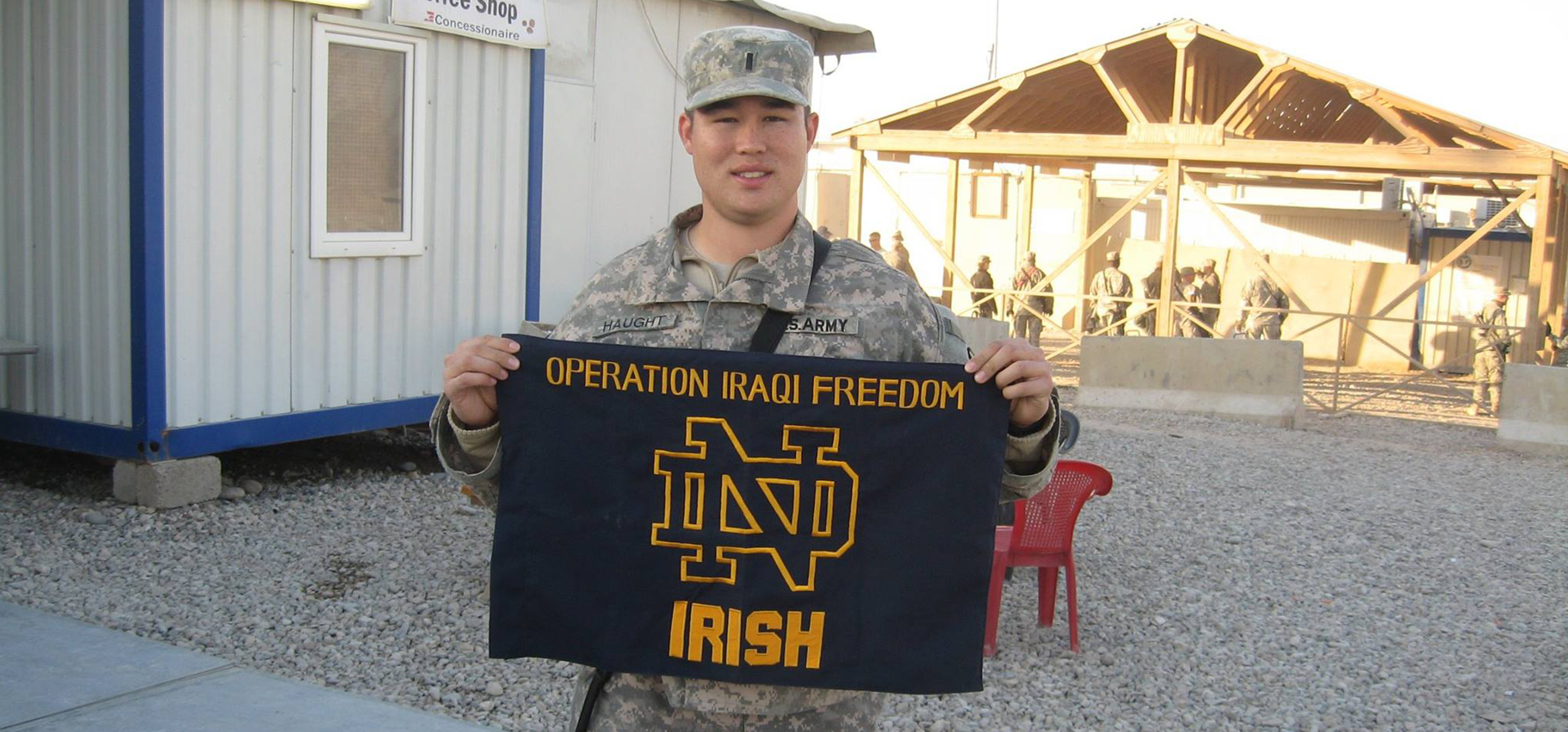 Student Veteran Spotlight: Jacob Haught, School of Physical Therapy
"Student Veteran Spotlight" highlights the unique paths of our students at Touro Nevada.
In this edition, we sat down with Jacob Haught from the Touro University Nevada School of Physical Therapy.
How long have you been in the military?
I first enlisted in the Army National Guard when I was in college in 2004, but I was called upon to serve in Operation: Iraqi Freedom from 2008-09. I have a total of 12 years in the National Guard.
What did you do during your service in Iraq?
I was the company executive officer for a convoy escort company assigned to a Calvary unit. The Cavalry's mission was to provide security for logistical patrols all over Iraq. I went as far from Mosul. It was known as one of the more dangerous missions because we were exposed to explosive devices, ambushes and complex attacks along the supply routes.
Why did you decide to enlist in the U.S. Army?
I knew in high school that I wanted to be in the military in some capacity. My father served for eight years in Recon of the U.S. Marine Corps; my grandfather served in the Army during the Korean War, and I had an uncle who fought in WWII. I come from a big military family.
When did you decide that you wanted to study physical therapy?
After seeing a lot of folks, both civilian and military get injured in Iraq and Afghanistan, I discovered there were different ways to help one heal. Of course, you have the surgeons doing the cutting, but the PT's do a lot of therapeutic exercises that really help you get back to 100 percent.
I was really drawn to the physical therapy aspect because I had been hurt, as were my friends in the military. With or without surgery, physical therapy still seemed to be something that worked.
When did you discover that Touro University Nevada was the place for you?
I applied to a lot of schools and was accepted into multiple schools. When I came to visit Touro, I was quite impressed with the overall mission: to serve, to lead, and to teach. The university's values align well with the military, where they value selfless service. There was a lot of positive energy from the faculty, and the administration was very supportive of veterans and the military.
What are your plans after graduation?
I'm probably going to go back into the military as a physical therapist.
How do you think your military experience will help you become a better physical therapist?
One thing about having military experience is that they really instill leadership, which is something you don't typically get as a civilian. When I was an officer, I was given a lot of responsibility, including being in charge of nearly 120 men and equipment worth millions. In the military, you also learn problem-solving and interpersonal skills to connect with people from a variety of backgrounds.
Where are you originally from?
I was born in Camp Pendleton, California but grew up all over the country. I consider Hawaii to be my home because that's where I graduated from high school and it is a cool place to be from.
How has your Touro experience been thus far?
I'm very appreciative of the opportunity that Touro gave me to come here, as well as the university's support for veterans. Touro is preparing me to become a great physical therapist, and I'm excited for the future.
Learn More About Touro Nevada's PT Program