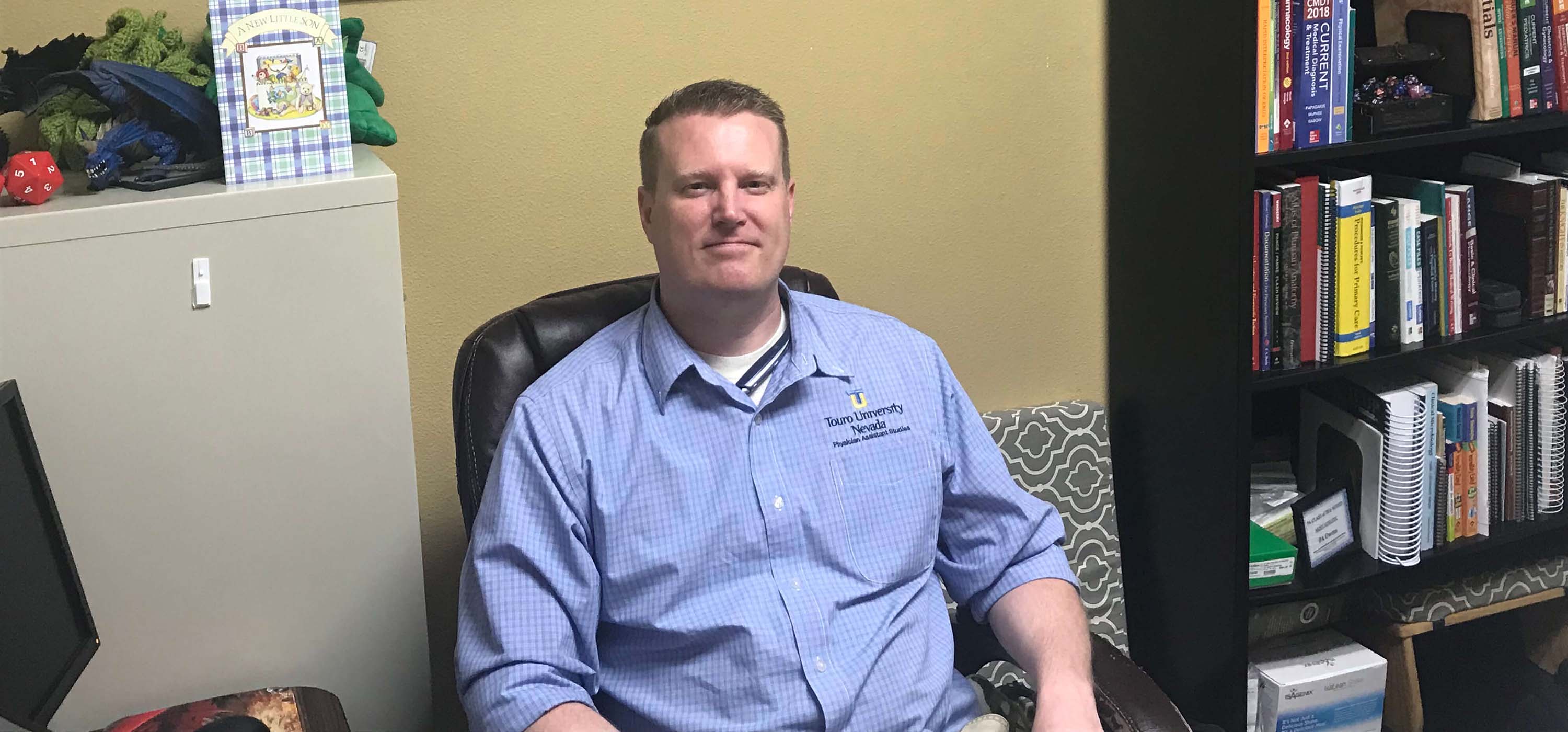 Faculty Focus: PA Joshua Owens, Assistant Professor, School of Physician Assistant Studies
"Faculty Focus" highlights the accomplishments of our faculty at Touro Nevada.
In this edition, we sat down with PA Joshua Owens, Assistant Professor in the Touro University Nevada School of Physician Assistant Studies.
Where did you grow up and what was it like?
I grew up in Northern Utah in a place called Cash Valley. It was very slow and rural, not urban by any means. We would carry our BB guns around and play games. It was a blast.
How did you become a physician assistant (PA)?
I actually wanted to become a high school band director ever since I got into band in middle school. My main instrument was the saxophone, and I was a music major for a couple of years when I got into college. It was there that I met my future wife and realized that I could not raise a family on $25,000 a year.
I had a couple of brothers who went into pharmacy, so I started looking at more health-related professions. I had a horrible time in transition because the sciences were a completely different animal. I graduated from Utah State with a degree in liberal arts and sciences, and at the same time I met my first PA. I was planning on going to pharmacy school, but then I fell in love with the PA focus. That's when I decided to take the PA route.
When did you arrive at Touro University Nevada and what has the experience been like?
I came to Touro in July 2014. I had always wanted to work in academia, which harkens back to my band days. I love to teach, and as a primary care clinician, I thought I would make a great instructor.
As a preceptor at the University of Utah, I loved the program. It was a very small and intimate program. I knew everybody, and there was an open-door policy. So, when I came to Touro for an interview, it reminded me of my old program and it was a perfect fit.
In your position, how do you help students?
Because I've worked in primary care, I feel like I am very practical. I know the transition from school to practice can be tough, and I feel like I can teach that to the students. Whenever I create a lecture, I try to think in terms of what the students would want to know given that I've been on the other side. I fuse the academic and the practical together so they have something they can hold on to when they get out of PA school.
What do you enjoy the most about working here?
I enjoy teaching and interacting with students. They have this passion, and it gives you a sense of satisfaction knowing that you're helping them grow as professionals.
If you could give your students a single piece of advice, what would it be?
Do the best you can with what you've got. The fact of the matter is, everybody has different experiences and backgrounds. You may look around at other people and think they are so much better than you, but we provide you with the tools you need to succeed. Understand that this is a process of growth. We're not the same people we were even a year ago. If you always do the best you can with what you've got, you will be a good clinician.
What do you enjoy doing in your free time?
I have five kids, so they take up most of my time. But I also enjoy reading and playing Dungeons & Dragons.
Learn More About Touro Nevada's PA Program