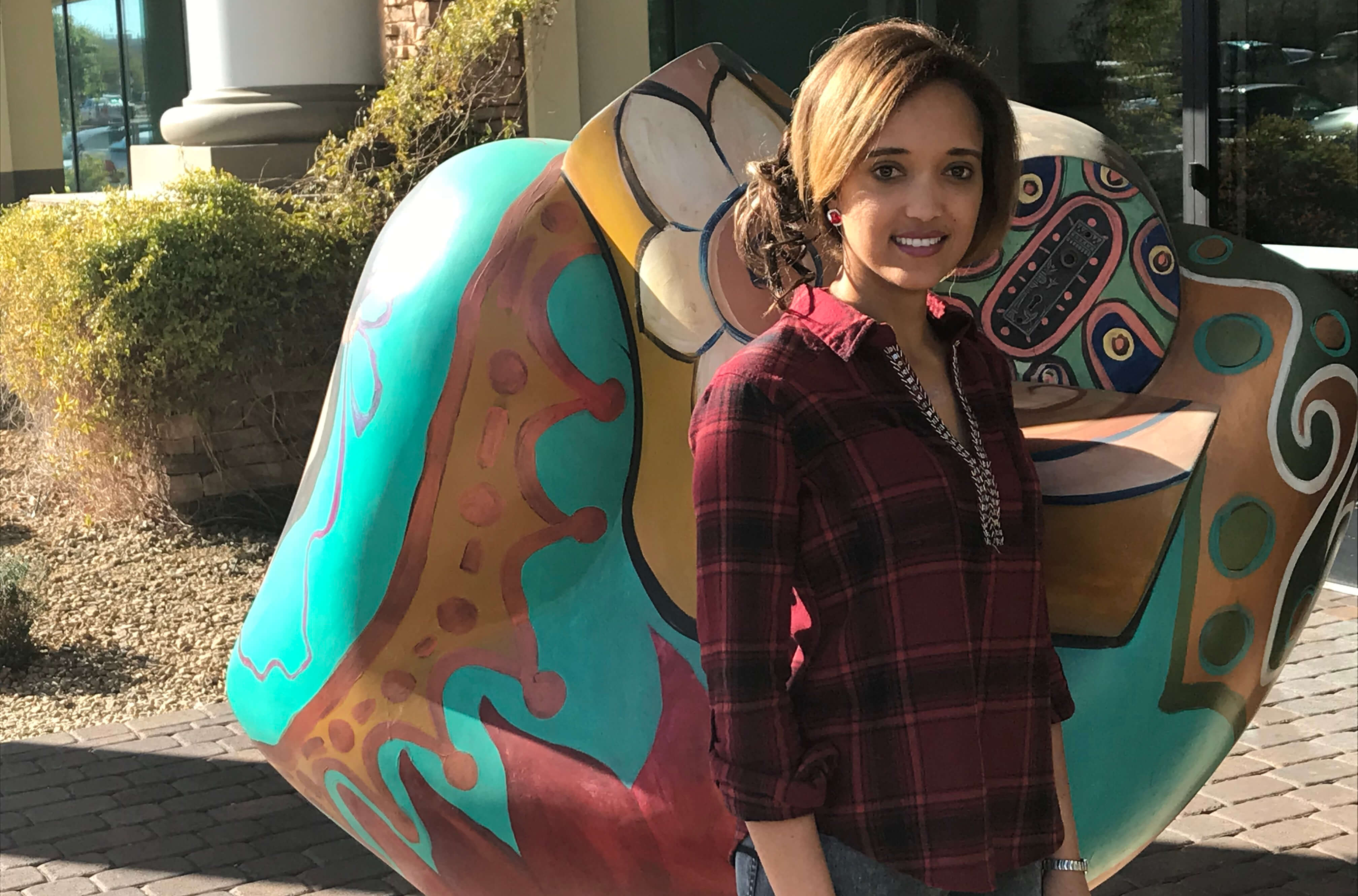 Student Spotlight: Niyat Teweldebrhan, Medical Health Sciences Program
In this edition of Student Spotlight, we sat down with Niyat Teweldebrhan.
When Niyat Teweldebrhan was 8-years-old, she found herself in a jail cell with her father and brother, innocent victims of a nasty border war between her home country of Ethiopia and neighboring Eritrea near the Red Sea.
Teweldebrhan was born in Ethiopia, the second-most populated nation in Africa. For 30 years, Eritrea fought for independence against Ethiopia, and gained it in 1991.
In 1998, war broke out again between the two nations, and Eritrean-born families living in Ethiopia were subjected to deportation. Since both of Teweldebrhan's parents were born in Eritrea, the Ethiopian government deported her entire family shortly after the war began.
When she was 8-years-old, the government loaded her family, along with families like hers, in a bus and dropped them off at the Ethiopia-Eritrea border, located in one of the poorest parts of the world near the Horn of Africa.
"It was a war zone out there," she recalled. "When we were on the bus trying to cross the border, I saw a guy sitting next to us get shot. They took everything from us; our money, house, and car. We had to start all over once we got to Eritrea."
Neither of Teweldebrhan's parents got further than the sixth grade, though both of them harbored a deep love for education. They wanted their children to excel in school, and Teweldebrhan finished as one of the best students in her class.
As part of Eritrea's nationalized school system, Teweldebrhan finished the 12th grade in a military camp where students split time between military training and education as they prepared for their future military lives after high school.
Teweldebrhan's exceptional grades propelled her to a better life outside of the military after graduating with a 4.0 GPA. She was one of the few in her class to go to medical school, an eight-year program where graduates became general practitioners upon completion.
"I had always wanted to go into medicine because I grew up in war zones," she said. "I lost two cousins and an uncle in those wars. I wanted to help people because I knew how important it was."
The Eritrean government temporarily closed the medical school in 2014, two years before Teweldebrhan was expected to graduate as it underwent curriculum and leadership changes to the Eritrean military. With her future uncertain and tensions between Ethiopia and Eritrea on the rise once again, Teweldebrhan knew she had to leave.
In order to escape the country, she had to pay the equivalent of $5,500 to Eritrean government officials. According to Teweldebrhan, the Eritrean government does not allow its citizens to leave the city in which you live, so the transaction was made under the table.
From there, Teweldebrhan traveled to neighboring Sudan, a country caught in the middle of its own civil war.
Shortly after arriving in Sudan, she took a bus to Uganda where she stayed with one of her sisters. It was in Uganda that Teweldebrhan got in touch with her uncle who lived in Redwood City, Calif. She applied for her student visa to stay with him and was granted asylum in July 2015.
"What are the odds that I came from one of the poorest parts of the world and ended up in one of the richest parts of the world?" she said with a laugh.
While living in Redwood City, Teweldebrhan reconnected with Bersabel Wolemariam, a childhood friend from Eritrea currently enrolled in Touro University Nevada's College of Osteopathic Medicine.
"Bersabel said to me, 'Girl, when are you going to apply to Touro?'" she recalled.
Teweldebrhan got her permanent residency in January 2017, shortly before applying to Touro's Medical Health Sciences (MHS) program. After being accepted into the MHS program, Teweldebrhan moved to Southern Nevada where she and Woldemariam live as roommates.
"I think Niyat is a resilient and very hard-working person; somebody we can all look up to and learn from," Woldemariam said.
Teweldebrhan has excelled in the MHS program and was recently accepted into Touro's School of Physician Assistant Studies.
"One of the reasons I wanted to go to PA school is because I want to serve the underserved populations; the populations I come from," she said.
Teweldebrahn has two sisters who also escaped from Eritrea and now live Canada, though her parents and younger brother are still in Eritrea. Her brother has spent the last three years in prison, though she says the government hasn't given her family an explanation for why he's there or when, or even if, he'll get out.
It's something that happens in nearly every Eritrean household, she added.
Teweldebrahn said it's too dangerous for her family to leave, as many families have been shot trying to cross the border.
The internet is a luxury in Eritrea, so her parents can only speak with her when they can get to an internet café. They communicate mostly through photos, but they try to speak to each other once a month.
As for her Touro education, Teweldebrahn hopes to stay in Nevada after PA school. She's made a nice home for herself in Southern Nevada, more than halfway across the world from where she grew up.
"I feel like all of the hardships I went through are finally paying off," she said. "It's tough to put into words, but it feels so good."
Learn More About Touro Nevada's MHS Program