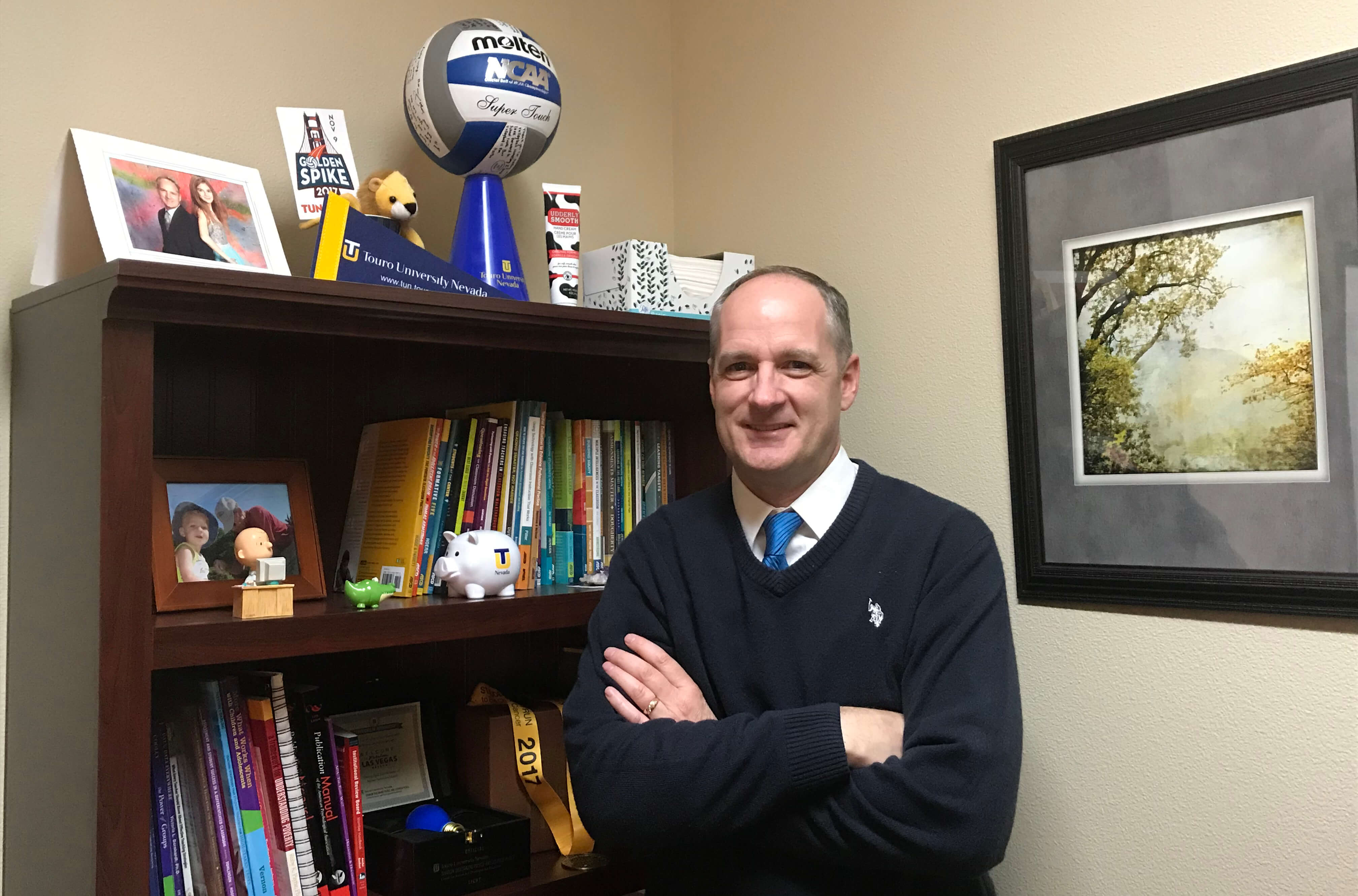 Faculty Focus: Dr. Robert Askey, Director, School of Education
"Faculty Focus" highlights our distinguished colleagues at Touro Nevada.
In this edition, we sat down with Dr. Robert Askey, Director of the Touro University Nevada School of Education.
Where did you grow up and what was it like?
I grew up in a very rural area of Western Pennsylvania called Brockway. The town where I went to high school had one traffic light. When you had to go to the grocery store, you'd say you had to "go to town."
Brockway is known for its glass plant. When I grew up in the 70s, it was the place that employed the most people in town. When manufacturing started going with plastic, it was really devastating for the town for many years.
When did you discover your love for teaching?
It was more of a 'Hey, I like to work with kids' thing before it was 'Hey, I could become a teacher.' I could always relate really well to kids, but it wasn't until toward the end of my high school career that I really considered looking into becoming a teacher.
When did you arrive in Southern Nevada?
I moved here in 1997. The Clark County School District (CCSD) is always looking for teachers, and they actually recruited me from Western Pennsylvania. I had gone to a job fair and the Clark County School District was there, which they did a lot as they scoured the country in search of teachers.
At the time, I was working as a therapeutic staff support worker where I would help kids who needed additional academic services. It was a great way to get experience with kids.
When CCSD offered me a job, my future wife and I came out here and began teaching the second semester of the 1996-97 school year.
How did you progress through CCSD once you first arrived?
After about two years as a teacher at Doris Reed Elementary School, I began taking courses for my Master's before finishing in 2002. Shortly after, I followed my old principal to Ruth Deskin Elementary School where I taught fifth grade. After about eight years as a fifth-grade teacher, I moved on to Becker Middle School and taught computer literacy classes. After a few years there, I began working on my doctoral degree at Nova Southeastern University. I thought, 'Hey with this, I can get into higher education, or maybe even become a principal or some form of school administration.'
When did you arrive at Touro University Nevada?
After completing my doctoral work in 2007, I arrived at Touro as an adjunct faculty in the Spring of 2008. When I first taught classes here, my teaching space was where the student computer lab is currently located. That used to be my classroom and I loved it.
After teaching as an adjunct for a couple of years, the opportunity came for me to become a full-time faculty member. So, I left CCSD and began teaching at Touro in the Fall of 2010.
Why do you enjoy teaching at Touro?
We are predominantly working with school teachers, so they are people who we can relate to. We are all trying to figure out how to make these people better teachers. We want to make sure they are getting value out of the classes they are paying for. There is no such thing as 'spare time' to a teacher in a classroom, so we need to make it count.
What is it like having students who also work as teachers during the day?
You can't really equate our students with the other students at Touro. Our students are full-time teachers who happen to be taking classes at this university. Even though there are other students on campus who are married with kids or have additional responsibilities, the percentage of our students who have kids and responsibilities outside of their studies is much higher.
As an instructor in the School of Education, you're not going to be able to come in and fool your students. You need to know what you are talking about because they will see right through you in an instant. They come from the mindset that when they close the door in their classroom, they are the ones in charge.
"We want our coursework to be valuable to students so that when they go back into their schools, they can say it made them better teachers in the classroom."
If you could give your students a single piece of advice, what would it be?
For new teachers, I would let them know that they are taking on a job that is incredibly difficult. They have to accept that this is a very tough job they are being asked to do. Everybody eventually figures out that they aren't able to do all of the things they'd like to do, but they understand that they are tasked with trying to help these kids the best way that they can.
Helping these kids is why they got into this job. While they might not be able to change the entire world, they can help by changing one kid at a time.
What are some of the things you enjoy doing outside of work?
I love volleyball, and both of my kids play volleyball. Virtually every evening with us is volleyball. I coach one team on Mondays, Wednesdays, and Saturdays; as well as my son's team on Tuesdays, Thursdays, and Saturdays.
Other than volleyball, we enjoy traveling back to Pennsylvania as a family and try to be outside as much as possible.
Learn More About Touro Nevada's Education Program