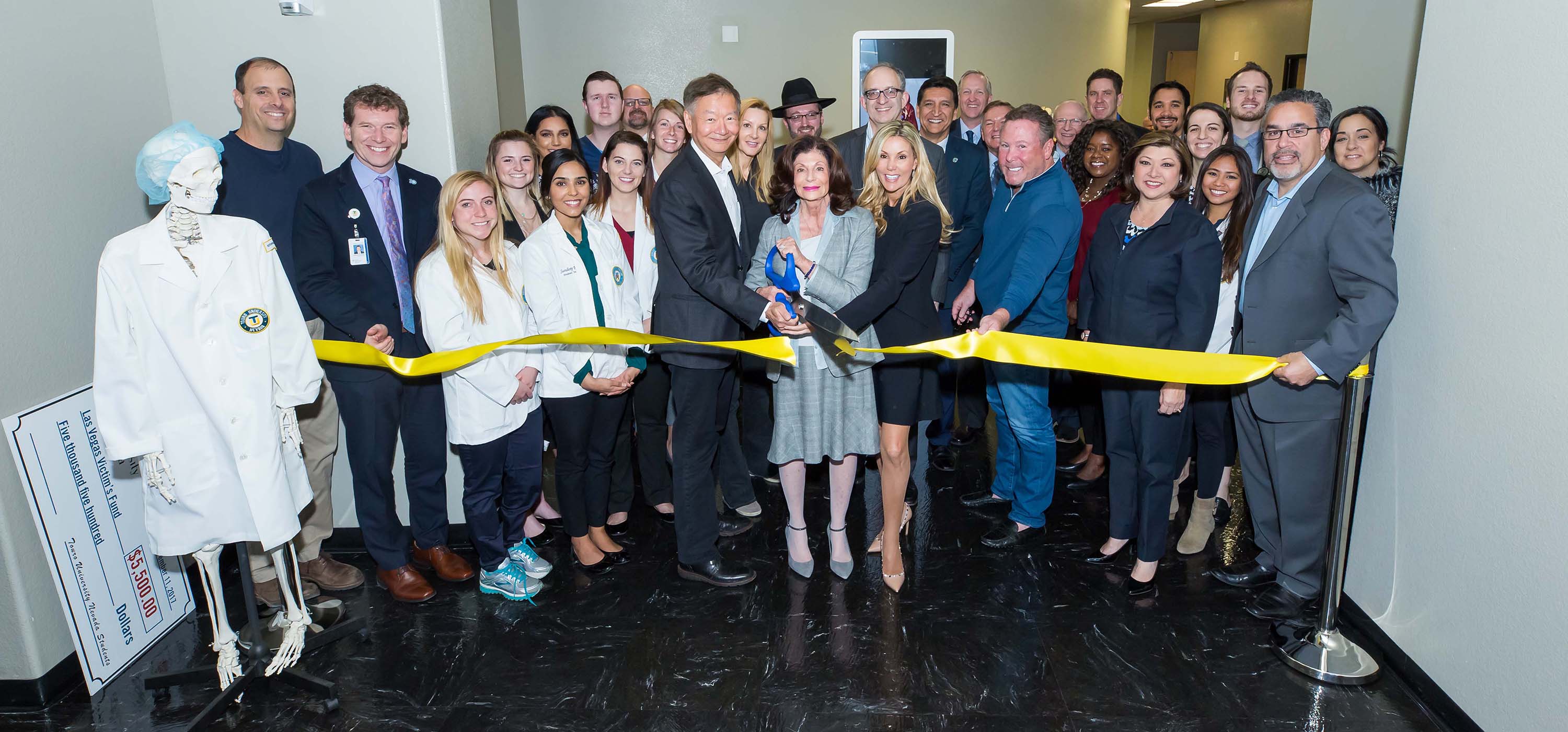 Touro University Nevada Opens Two New Training Centers Positioned To Make Profound Impact on Health Care Education
Solving a critical need in healthcare education, Touro Nevada opened two new training centers.
Touro University Nevada opened the doors of two new impactful centers on campus – the Michael Tang Regional Center for Clinical Simulation and the Chantal & Stephen J. Cloobeck Regional Center for Disaster Life Support. The institution, which continues to lead the state of Nevada as the largest medical school, will now have even greater impact on health care education and the community.
"Our goal in opening these innovative centers is to make a meaningful impact regionally in the education of medical providers and first-responders," said Dr. John Dougherty, Dean of Touro's Medical School. "The need for this type of hands-on training is critical in Nevada but also across the southwest."
The Michael Tang Regional Center for Clinical Simulation is a state-of-the-art medical simulation facility providing the opportunity for interdisciplinary, team-based hyper-realistic development of the next generation of healthcare providers. The center is focused on patient safety and competency for students and practicing professionals from a broad background. Those learning at the center will develop competencies in medical knowledge, patient care, professionalism, and communications skills in an objective, structured educational center that will better prepare them to become proficient in skill sets needed to succeed in their discipline.
"This is a remarkable day for Touro and our community," said Shelley Berkley, CEO & Senior Provost of Touro's Western Division. "The creation of these two regional Centers further demonstrates Touro's dedication to providing our students with the knowledge and proficiency needed to be successful. The Centers are also going to be a resource for healthcare providers, first responders, and others in the community to utilize these environments for training."
At the grand opening event, guests were able to tour the Tang Center and interact with Touro students and faculty showcasing the new anatomage tables, sim-men and surgical cut suits. In addition, the facility showcased its ear, heart and lung simulators as well as demonstrating the use of ultrasound machines on abdomen simulators and limbs.
"It means so much to me to play a role in adding this type of technology to the education of future medical and health care providers," said Michael Tang. "Knowing that this advanced level of training will impact the community so greatly makes this a momentous occasion."
For more than a decade, Touro has been the sole medical school based in Southern Nevada, a community with more than two million residents, working to continuously address health care needs. With Las Vegas being one of the largest cities in the U.S. without a Disaster Life Support Center that is certified by the National Disaster Life Support Foundation (NDLSF) to provide educational courses to health care providers, first responders, law enforcement and other community members Touro immediately recognized this was a need to be addressed.
In late 2016 Touro began the planning process for the new center and with a generous donation from Chantal and Stephen J. Cloobeck were able to design a facility to fill the need. The new Chantal & Stephen J. Cloobeck Regional Center for Disaster Life Support will become one of the NDLSF certified facilities offering cutting-edge training and disaster management for health care providers and more within Southern Nevada.
When asked what inspired the Cloobecks to provide funding for the new center Stephen J. Cloobeck said: "Emergency trauma training in Nevada was so lacking that Chantal and I thought this would have a major impact to the State."
To fully immerse the grand opening attendees in the capabilities of the new Disaster Center the Touro team demonstrated a smaller-scale scene of the simulations that actual trainees will experience including actors, special FX makeup, wound replicas and more. Students and faculty showcased triage techniques and disaster management.