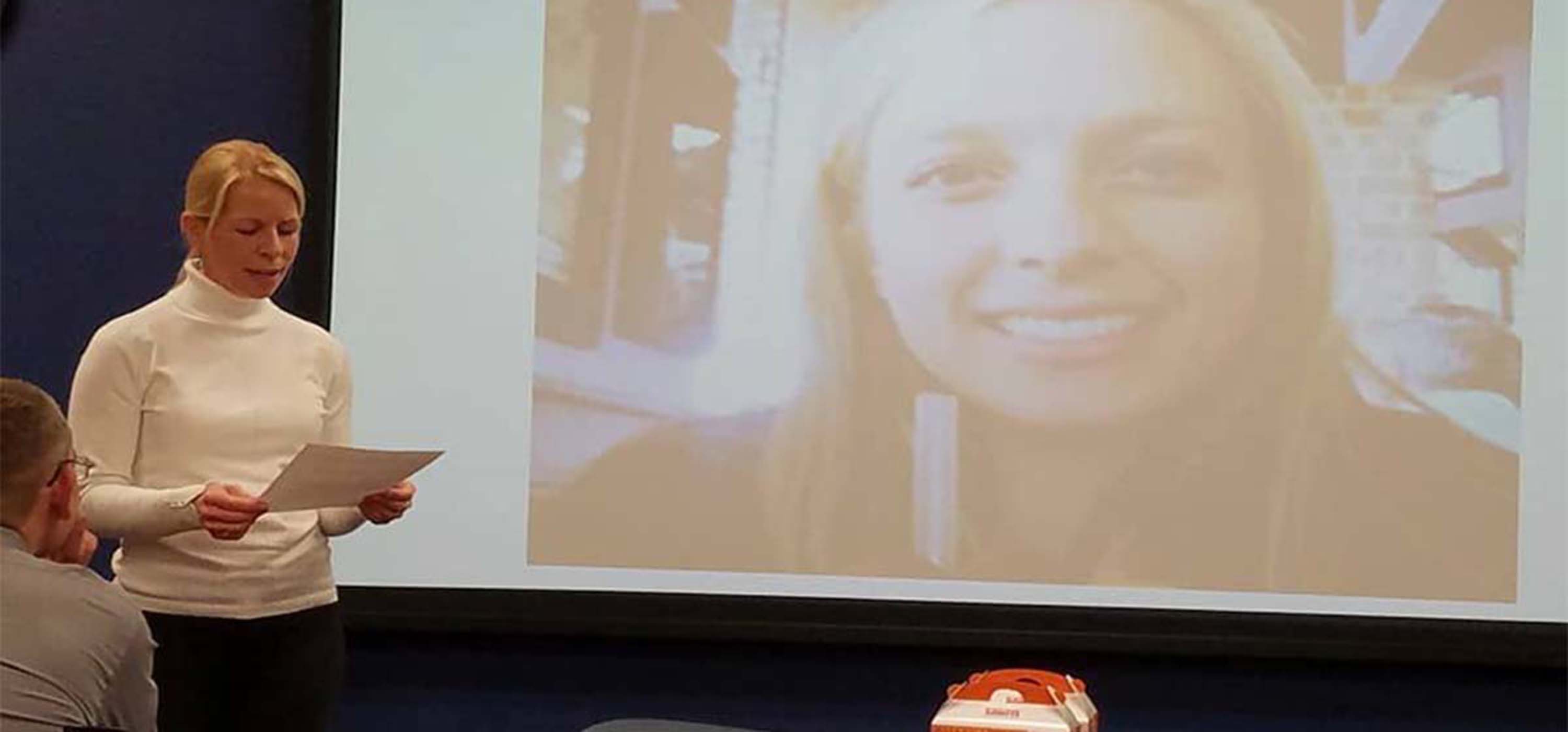 Touro University Nevada Physical Therapy Students Honored With Dr. Candace Ortiz Scholarship Awards
Two students were presented with the Dr. Candace Ortiz Scholarship Award.
The Touro University Nevada School of Physical Therapy (PT) recently honored two students with the Dr. Candace Ortiz Scholarship Award for their hard work and dedication inside and outside of the classroom.
James Ahlstrom and Cassondra Boyd from the 2018 PT cohort were presented with the award in honor of Dr. Candace Ortiz, a 2015 Touro PT graduate who passed away in 2016. Ahlstrom and Boyd were nominated for the award by their classmates and confirmed by their faculty as outstanding members of their class.
"Candace was a friend to everyone. She had a very caring and kind soul and wanted to help as many people as she could," said Dr. Tricia Catalino, Associate Professor in Touro's School of Physical Therapy. "In addition to her being such a great person, she was always engaging with her classmates. She was always inclusive of everybody."
"The Candace Ortiz Award is a great tribute to a physical therapist who was once in my shoes," Boyd said. "To win this award, along with James, is truly humbling. I feel privileged to have been nominated by my classmates, knowing that they believe I reflect the values and characteristics of someone who desired to help outside of the classroom and the clinic."
Ahlstrom, a native of Caliente, NV, said he was humbled to be nominated for the award.
"I became really emotional when I found out I was one of the winners," he said. "It's an incredible feeling to know that my classmates put me in the same category as Dr. Ortiz who made such a profound impact on our program and the community."
An integral component of winning the award was a strong dedication to community service. Both Ahlstrom and Boyd have exemplified that since arriving at Touro.
"During my years at Touro, I've volunteered with Special Olympics, the Multiple Sclerosis Association, the Rock n' Roll Marathon, and the Down Syndrome Association," Boyd said. "Volunteering with these organizations will make me a stronger physical therapist while helping me give back to the community."
Ahlstrom has volunteered with Special Olympics, Healthy Hearts, Miracle League of Las Vegas, Paraplegic Bicycling, the Muscular Dystrophy Association Clinic, and the Blind Center of Nevada.
"Both James and Cassie possess the drive to be good and do good without needing any recognition for themselves," Catalino said. "They are both incredibly selfless and kind-hearted; the type of people who come to mind when I think of Candace."
Ahlstrom and Boyd will both graduate during PT's Commencement on Sunday, June 18 at Congregation Ner Tamid.
Learn More About Touro Nevada's PT Program