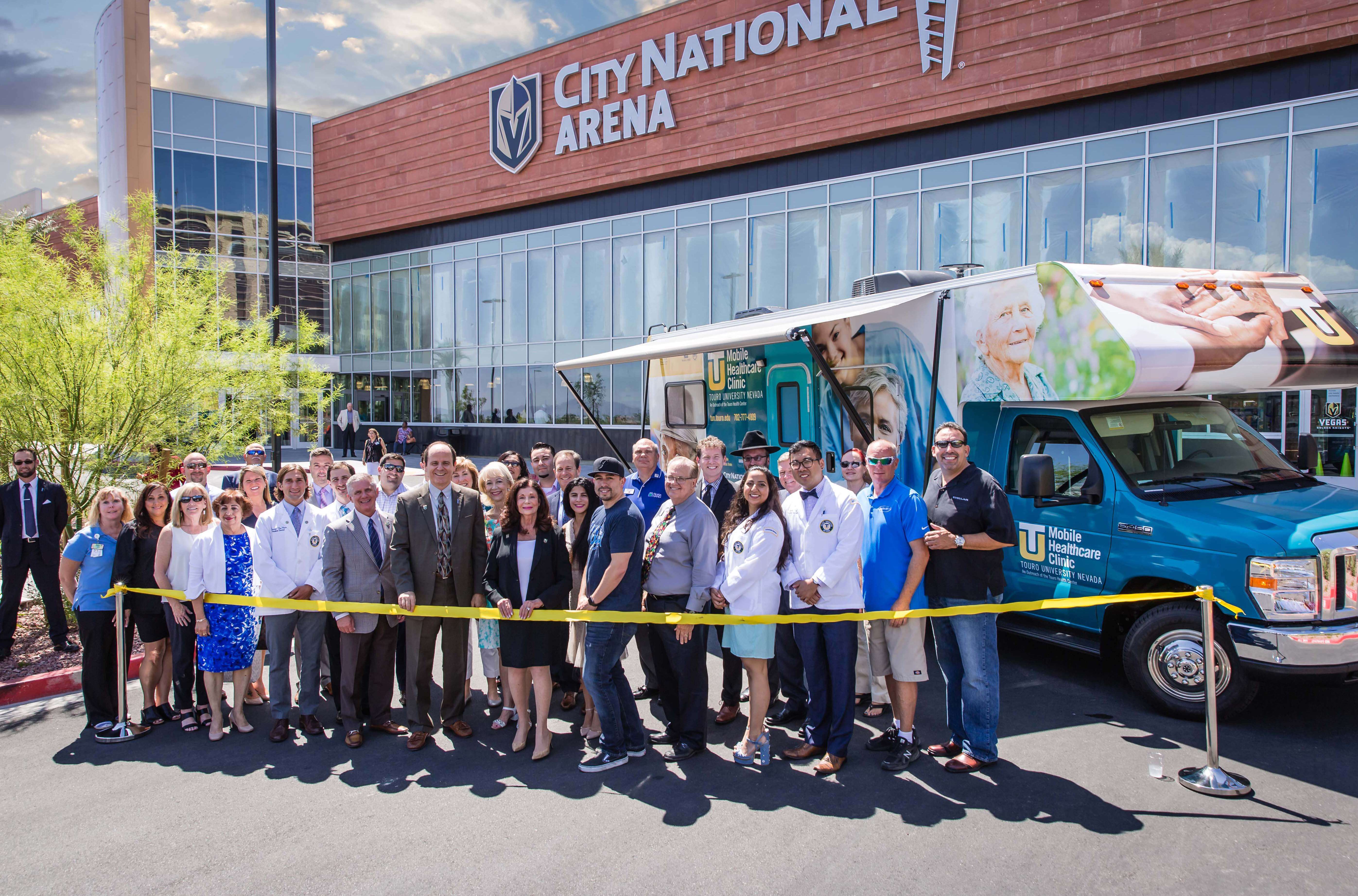 Touro University Nevada Unveils Third Mobile Healthcare Clinic to Assist Seniors in Las Vegas Valley
Touro Nevada's third mobile healthcare clinic will provide primary care to low-income seniors in the valley.
Touro University Nevada unveiled its third mobile clinic during a special ceremony surrounded by donors, community partners, and members of the Southern Nevada community at City National Arena on July 19.
Thanks to generous donations from City National Bank, the Vegas Golden Knights, Zappos, and Findlay RV, the third mobile clinic will help Touro address the healthcare shortage in Southern Nevada by providing free primary care services to low-income seniors throughout Southern Nevada.
"This mobile clinic will enable our Touro faculty and students to provide much-needed care right to the doorstep of low-income seniors in our community," said Shelley Berkley, CEO & Senior Provost of Touro University Nevada. "This project is just the latest example of how we are furthering our commitment to addressing the healthcare shortages in Southern Nevada. Not only will we be able to make an impact in the community, we will also be giving our medical students first-hand experience as part of their overall education."
The new mobile clinic will address the need for on-site medical care at several Nevada HAND housing locations. Nevada HAND is a local non-profit that improves the lives of low-income individuals, including senior citizens, by providing affordable housing solutions and supportive services. In addition, the clinic will also visit the City of Henderson's Heritage Park and Downtown Senior Centers.
Donors and community partners who helped make the mobile healthcare clinic possible spoke about the impact it will have on seniors living in Southern Nevada. City National Bank, the official banking partner of Touro University Nevada, provided a $100,000 donation to help make the mobile healthcare clinic a reality.
"City National is extremely proud of its relationship with Touro University Nevada and the strong partnership we have developed with the university over the past several years," said Paul Stowell, senior vice president and chief market strategist for City National Bank. "Providing the majority of the funds for Touro's third mobile clinic is a real honor and a privilege, especially since it's going to be providing much-needed healthcare services to low-income seniors in our valley through Nevada HAND and the City of Henderson."
With the Vegas Golden Knights having an immediate impact on the community with their performance both on and off the ice, team President Kerry Bubolz credited the partnership as a way to make the community stronger.
"We are proud to join Touro's mission to grow and develop this important program, which provides care to underserved and at-risk communities in Southern Nevada," he said. "As Golden Knights, it is in our culture to protect those who cannot protect themselves. We look forward to working with local community leaders and our partners to continue to help and serve those in need."