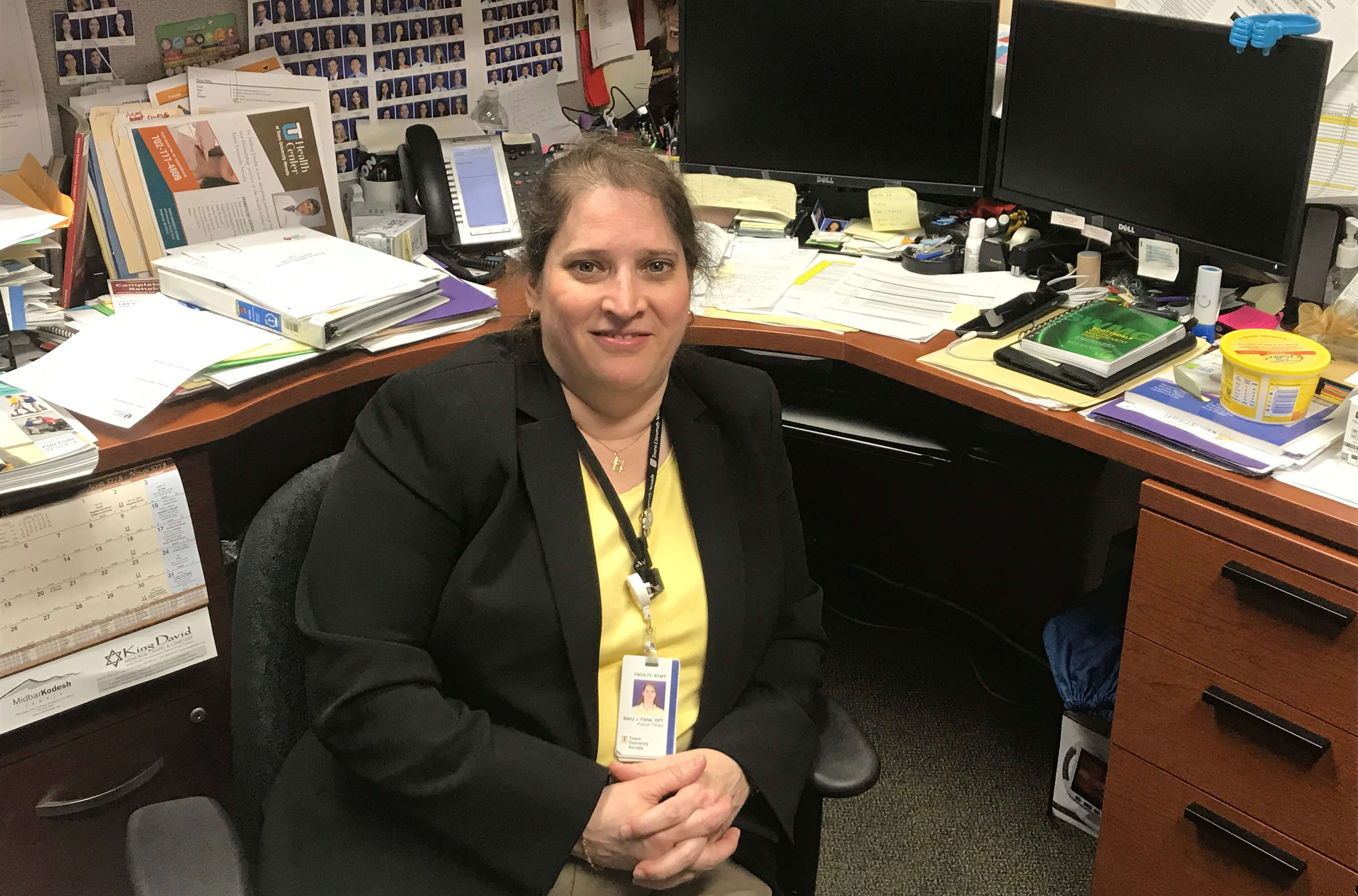 Faculty Focus: Dr. Stacy Fisher, Associate Professor, School of Physical Therapy
"Faculty Focus" highlights the stories of our accomplished faculty at Touro Nevada.
In this edition, we spoke with Dr. Stacy Fisher, Associate Professor in the Touro University Nevada School of Physical Therapy.
Where did you grow up and what was it like?
My family moved to Las Vegas in 1971 and I've been here ever since. I loved school, loved reading, and love this city. I went to Valley High School, at a time when there were only about seven or eight high schools in town. I was fortunate to have some really good educators.
Did you stay in town for college?
I did not. My father thought it would be a great experience for me to go out of town for college and live life outside of Las Vegas, and it was. I went to Chapman University in Orange, Calif. and that was an amazing experience.
What did you study during your time in college?
I had a dual emphasis in exercise physiology and athletic training. Even early on when I worked as a student athletic trainer, I knew I wanted to go into medicine. My dad was a physician and I went on rounds with him as a kid. I loved the patient interaction and how he positively impacted his patients.
When I was in high school, I was in a really bad car accident and was introduced to physical therapy. Athletic training was fun in college, but I got burned out pretty fast.
I took a year off after graduation before accepted into Creighton University's Physical Therapy program in Omaha, Neb., the first in the country to offer the clinical doctorate in entry-level physical therapy education. They had an outstanding faculty, and I said 'yes' immediately after they extended an offer to me.
How did you arrive at Touro University Nevada?
The first dean of the College of Health and Human Services at Touro approached me years before the School of Physical Therapy even began and asked me if I wanted to help start the program. At the time, I was very happy working my clinical job at Dignity Health, so I wasn't looking for anything else. About two years later when the program started, my name came back up and Suzanne Brown, our first program director, approached me about coming to Touro. I always wanted to teach, but I really loved being a clinician and didn't know how to do both.
My husband and I had conversations about it, and it seemed to be a good fit. It's been a great experience so far, and I look forward to a very long and healthy educational career.
What do you enjoy the most about teaching here?
I work with an amazing group of faculty. I couldn't have asked for a better group of people to work with. We are all so reliable and supportive of one another, and that's comfortable to have. This university supports its faculty pretty darn well.
If you weren't a physical therapist, what do you think you'd be doing?
I actually had to really look at that back in 2003. I had a pretty significant work-related injury as an outpatient therapist. I got tangled up in some modality lines and hit the ground really hard and caught my shoulder in a metal door jam.
I know that I'm a thoughtful and caring person, so I think I'd have to be a personal attendant or something like that. I also got my second doctorate in business, so maybe business in healthcare or something related to that.
What do you enjoy doing in your free time?
I'm an avid sports fan, so I'm a season ticket holder for the Las Vegas 51s. We go to most of the home games, and my husband and I are pretty well-known for our seventh-inning stretch antics at the clubhouse. We're also season ticket holders at the Smith Center, so we go to all of the shows.
My husband and I also serve on several boards and foundations, and we have great opportunities to meet people in our community.
Learn More About Touro Nevada's PT Program